Hi friends,
So I'm sitting here watching an old BB After Dark 9/12. When randomly the remaining house guests start talking about the evictees. Next thing you know it turns into "

this person is bisexual, that person is bisexual

". For example they start to claim Ashley is bisexual (?) , Jo Jo is Bi, and then randomly Shame explains, " Oh and Willie is Bisexual".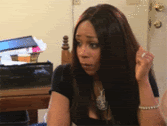 While it's gossip, I think they were all being serious about this jazz. Thus, I have to ask you ONTDBB;

What Big Brother Gossip have you heard go down in the house.

What did you learn this season ? Did we all #MIST something important ?